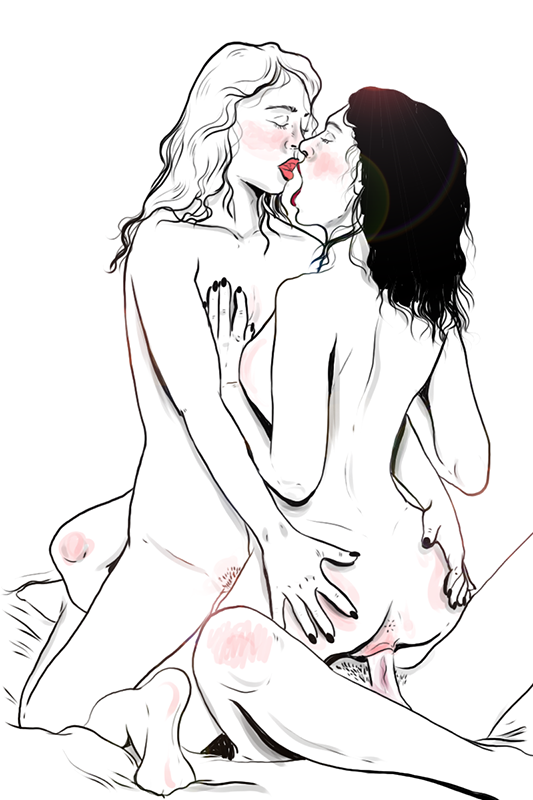 if I was your girlfriend
I would love you, I would learn from you.
I would marvel and endear you, listen to your dreams, whispering, your name.
I'd tickle you inside and caress you everywhere.
I'd let you close and so much closer than ever.
I would let you feel the sun, show you the moon and all of the stars.
We would sit on the counter at 3 o'clock in the morning and talk about the Universe.
I would read to you and you to me, we would share adventures, make long journeys, without actually having to leave the house.
We would laugh, scream, roar.
Fall, bump our heads and get up again.
Dancing, turning, spinning, joking and grilling.
Bright eyes, biggest smile.
Soft is your tongue, mine too.
Your breasts, small, perfect and round.
Your nipples hard, always?
I kiss them, suck a little, bite.
Go with my fingers in you, wet and warm and delightful, lustful, you, us.
How you do me back and I wriggle.
How you prepare me for more. You.
How you take me, as I am and as you can.
Sweet, tender, horny, sexy, feminine, intense and so so on, go on, keep going.
You built it up.
I follow you and I participate.
You got me, baby. All the way.
To cum with you is like how it was always meant to be.
Honest, delicious, we dare.
I love how your eyes sort of turn away.
If your moment is there and true.
Your eyes, the greenest, the most beautiful, dangerously horny, clear, healing, to drown in and never to come back and that that is also good.
Make plans and stick to it.
I wouldn't want to share you with a man, but we'd like to share a man together, you see?
We would let him do everything we could ourselves.
We would let him lick us, he can go from pussy to pussy, asses turned to him, go ahead, dare to(o).
He could fuck us. I watch him take you or vice versa.
Sucking his cock with just the two of us, that's pleasure, yes, even for us, lollipop.
We would make him ours and he would beg us for more, more, more.
We would let him show us the wild side with him. He would show us the way and much more than that.
He would share the same spirit as we do. After all: a dirty mind is a joy forever.
So many souls, one thought, the same moment, the same idea, we go along.
Trinity.
A night full of surprises.
High peaks and no way down.
In ecstasy, higher atmospheres, without clothes.
In the morning still impressed, grateful, happy, of what the night has offered us.
Nude, nude and nude, spoon, spoon, spoon.
To sleep is like this, sweet and soft.
Waking up and let him continue.
A kiss on his forehead and maybe an until very soon?
Out together is home together.
Close his door and open ours.
Fill the bath and make it hot.
Wash each other, so soft and soapy.
Clean faces, bare buttocks.
Soft large fluffy towels, I dry you and protect you, feel.
Crisp clear sheets and open windows.
Linen curtains and feeling the wind on our skin.
Goosebumps and bliss. At the same time.
I love you and I lust you.
If I were your girlfriend.
N/A
All artwork by Puck Rietveld